SUPER-REGIONAL MALL
FUN
FOOD
FAMILY
FASHION
SUPER-REGIONAL MALL
FUN
FOOD
FAMILY
FASHION
Rainbow super-regional mall is a mixed-use, multi-brand and multi-attraction experience that is revolutionising retail in South Africa.
A RETAIL REVOLUTION
Rainbow is revolutionising retail. Its shopping is centred around its visitors, and its retail mix is supported by the latest market insights for category and brand selection, groupings and adjacencies. With multiple anchors, a superb array of convenience and choice, over 200 fashion stores and endless entertainment, it will have everything its guests want under one roof. Enjoy all this and the pleasure of the alfresco lifestyle with the added benefit of a weatherproof Piazza setting.
A MATCHLESS EXPERIENCE
This expansive super-regional mall is designed to offer an abundance of the best shopping, dining, entertainment and leisure in a superlative, socially stimulating setting that goes beyond expectations and redefines the shopping mall experience.
ARTICULATING ATTENTION TO DETAIL
Thoughtfully designed for quality at every touch point, Rainbow is being crafted to improve your  shopping experience. Effortless, intuitive shopperflow makes it easy to navigate the mall and enjoy the benefits of browsing comparative shopping zones. Shopper services and amenities are  plentiful, thoughtful and seamlessly integrated to create friction-free enjoyable shopping that really connects with visitors and keeps them coming back for more.
EASE OF ACCESS TO ALL AMENITIES
Strategic road accesses off M1 (Paul Kruger Street) and Rainbow Boulevard, K14 east west link are specially designed to flow smoothly and safely into the mall's excellently integrated parkades, which connect seamlessly with six mall entrances. Generous integrated parking facilities will be provided in a super-basement and across three above-ground levels of parking linked to mall entrances, all designed to make shopping effortless. Taxi, tourist bus and shuttle drop-off and pick-up zones, as well as shopper click-and-collect points, have all been strategically incorporated in convenient locations within the parking areas. Abundant parking facilities will also link effortlessly to the neighbouring hotels and conference facilities.
AT YOUR SERVICE
Exceptional customer service is the defining factor that supports customer satisfaction and loyalty, and it is at the heart of the Rainbow ethos. Highly trained concierges will ensure shoppers have the most enjoyable experiences with services tailored around customers like:
• Shopmobility
• Valet parking
• VIP parking
• Visitors' lounge
• Free secure Wi-Fi and charging points conveniently located throughout
• Shopping lockers (safely leave your shopping while you enjoy more)
• Courier services
• Click-and-collect lockers
• Multi-faith prayer rooms
• Convenient and safe e-hailing and other taxi drop-off and pick-up zones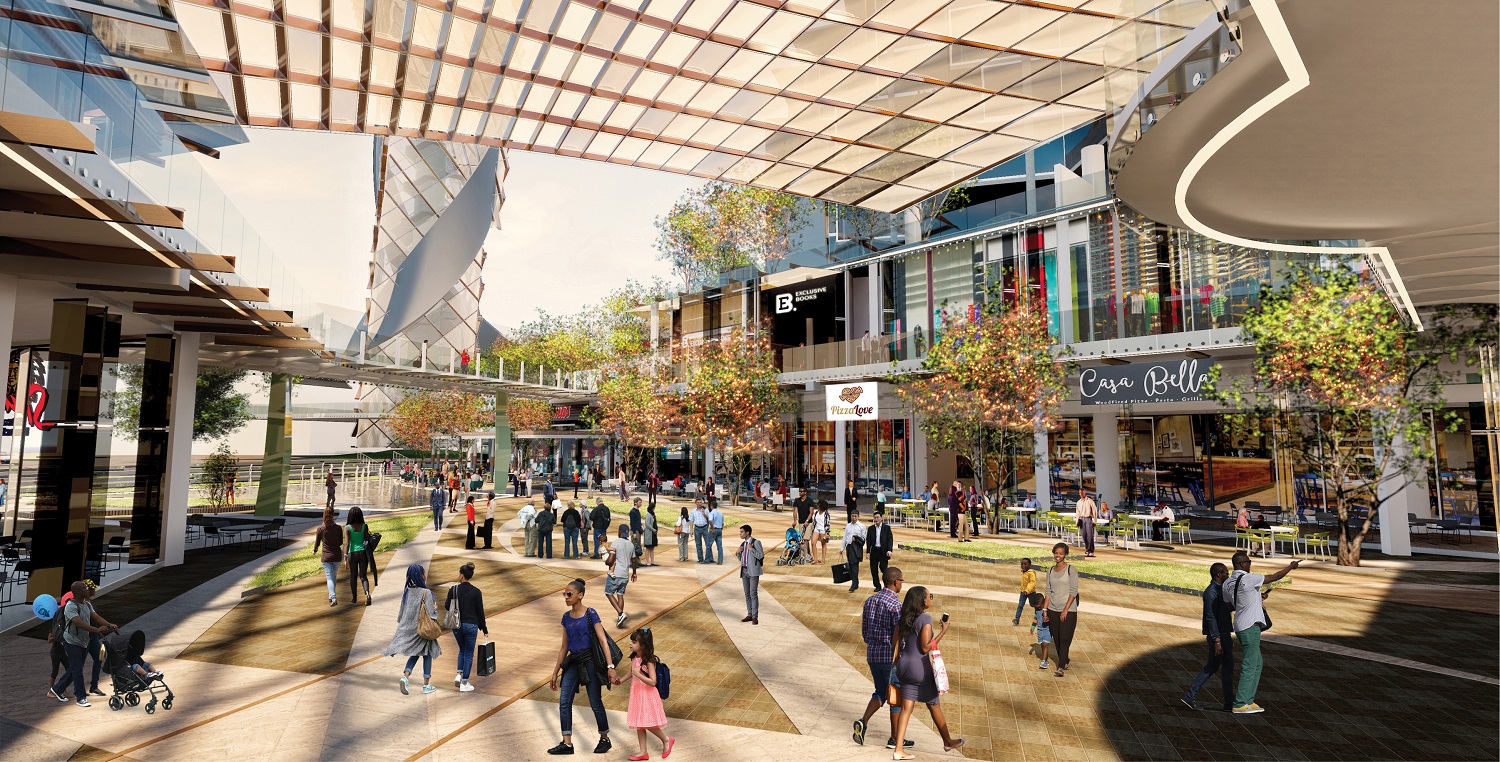 APPEALING RETAIL MIX
Shoppers can look forward to an appealing variety and choice exemplifying aspirational shopping. Rainbow will offer the best of a large selection of leading local and international brands creating an enjoyable, comprehensive and convenient shopping experience. Expect all the latest retail must-haves with a wide range of popular leading retail names and brands, all major banks and services, a full menu of food and entertainment, a curated selection of boutique, local designer and artisanal stores, and an ever-evolving line-up of retail events and attractions.
CLEVER CO-LOCATIONS
Brands have been cleverly placed next to and near one another to create retail alchemy that anticipates shopper preferences and makes the mall work beautifully. Creating clever adjacencies forms feature attractions from a tech hub to a home décor concentration and a fashion-focused upper level to a dedicated family zone.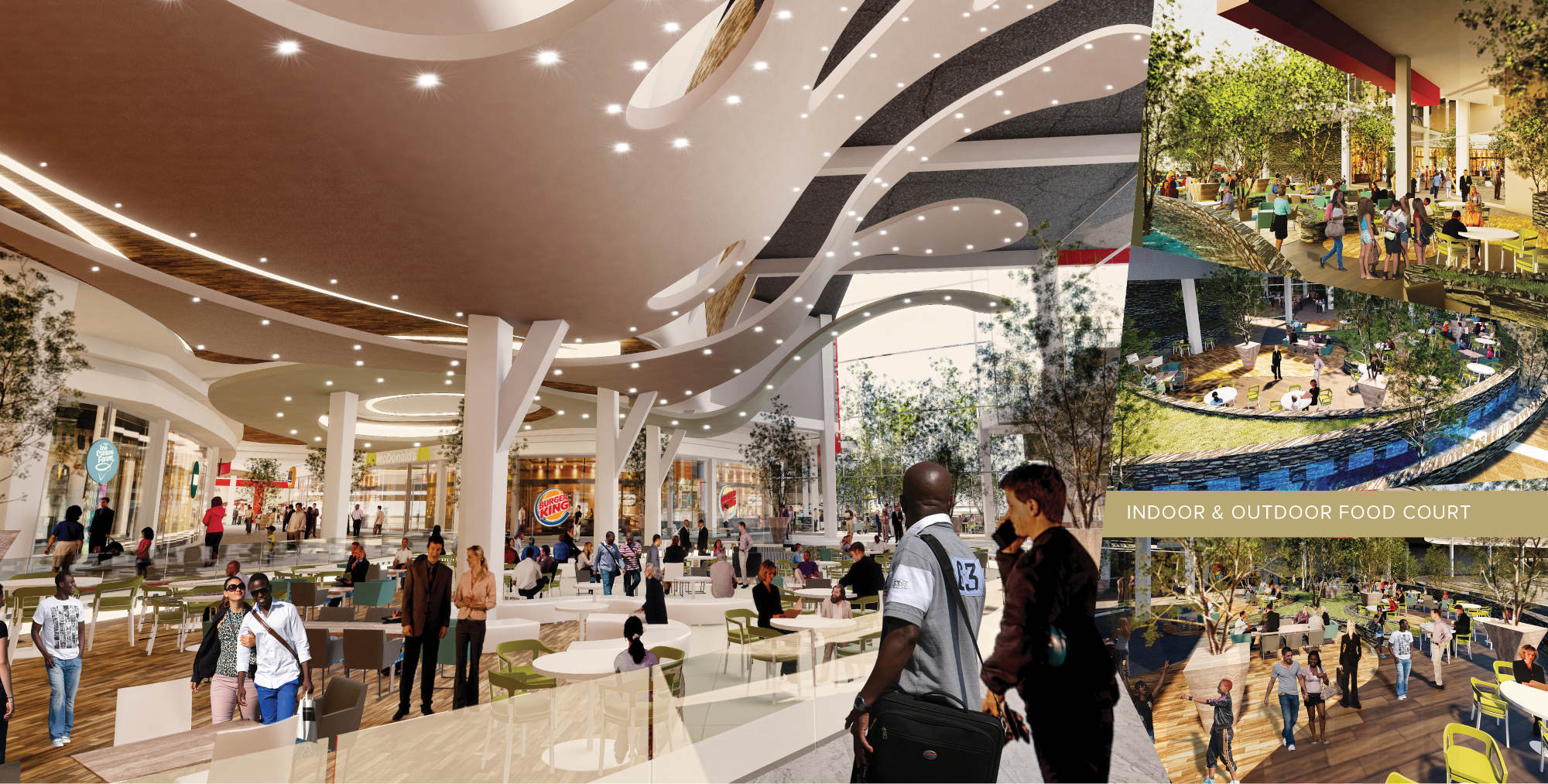 FOODIES DELIGHT
Rainbow is bringing food and entertainment together to create an extraordinarily vibrant experience. The Rainbow Piazza with its pavement-cafe type ambiance and the Rainbow Rooftop Markets with convivial communal dining offer a full array of varied eating experiences.
From fine dining to family feasts – food courts with both indoor and outdoor seating, fast food, health food, coffee shops, delis and cafes and so much more – you are given the choice of enjoying a unique indoor setting or meeting and eating under the beautiful African skies. Celebrating this famous local climate with perfect places to pause and refuel, the generously and exceptionally wide range of eateries caters for all ages with a multitude of menus served in vibrant settings. Secure outdoor seating areas on the various shopping levels in cool green and water-surrounded environments, and in the rooftop markets are enhanced by the lively atmosphere of seasonal entertainments.
RAINBOW PIAZZA
Inspired by vibrant Italian piazzas, Rainbow Piazza brings together food, family, friends and fun. It is a central gathering place for the entire neighbourhood and its visitors, always alive with new attractions, seasonal events and exhibitions. The Piazza is bordered by an array of restaurants on ground level while fine dining is located on the upper levels.